I am so very excited at the official release of my book Public Policy Analytics – the first of its kind at the intersection of data science and government. It was years of work, built initially to support my students in the Master of Urban Spatial Analytics program at Penn. I hope you take a look (open and in print).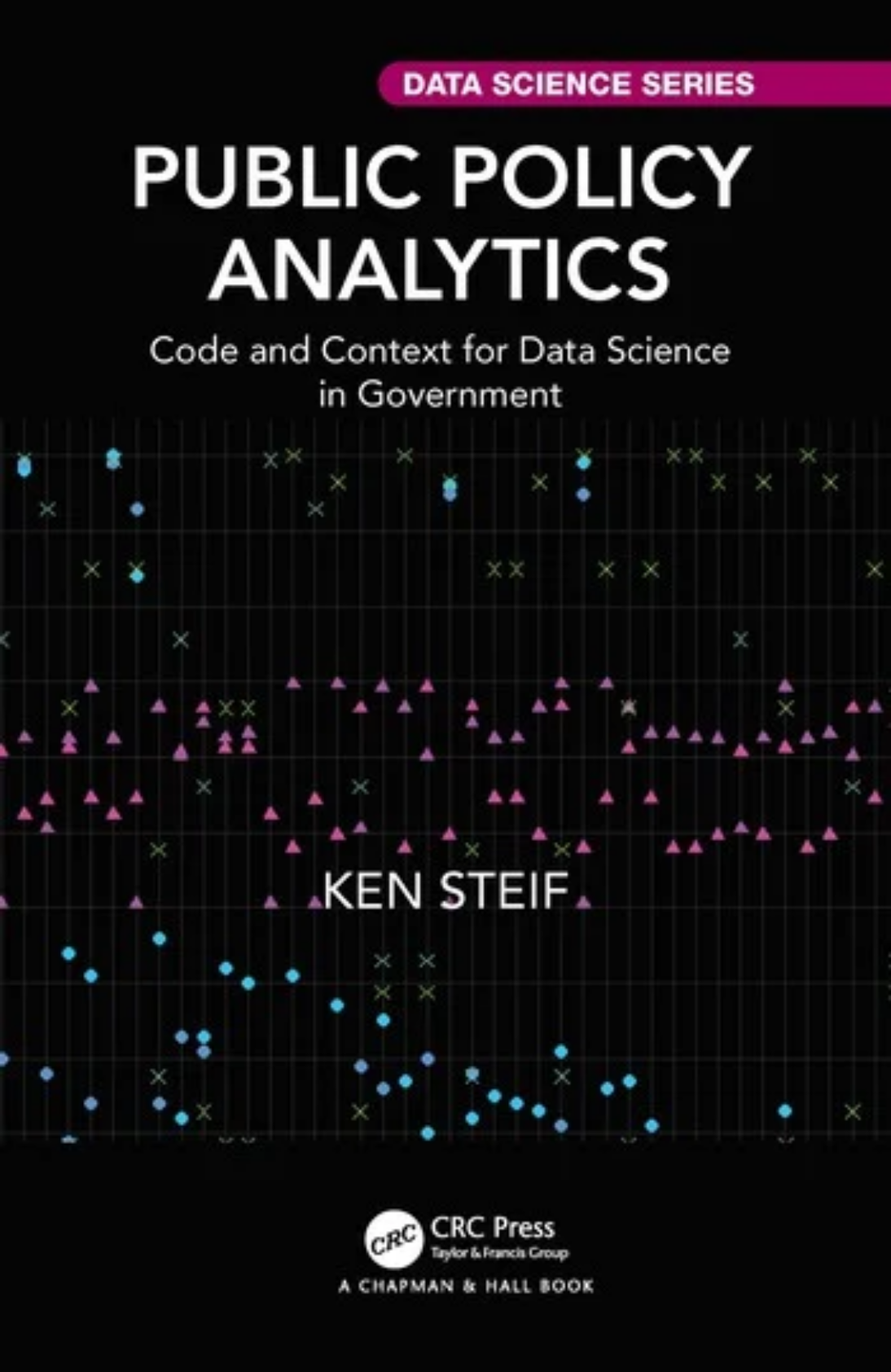 FOR IMMEDIATE RELEASE
Ken Steif, Ph.D – Dept. of City & Regional Planning, Univ. of Pennsylvania
UrbanSpatialAnalysis.com
@KenSteif
First book of its kind at the intersection of data science and public policy
[Philadelphia, Pa; August, 2021] Public Policy Analytics: Code and Context for Data Science in Government published by CRC Press in August, 2021, is a novel textbook designed to teach students how to convert data into actionable intelligence governments can use to get resources into the hands of those most in need. The Code is written in R, making it easy for students to copy and paste their way to data science solutions in their own courses and in their future profession. The Context ensures their findings address the myriad of criteria uniquely important to government, like equity, politics, bureaucracy, biasness and social cohesion.
Reviews for Public Policy Analytics:
"Finally, a book that connects two parallel lessons. First, how to design geospatial data science workflows in the public policy sector; and second, when applying algorithms in government, there is no free lunch. Rather than making data science in government a bleak challenge suited only for the fearless, Ken sustains a tone of optimism and a sense of purpose for readers curious enough to ponder the kernels of wisdom he has sprinkled in each chapter."
— Mark Wheeler, Chief Information Officer, City of Philadelphia
"Public Policy Analytics is a must-read for creating data-driven urban plans and policies. In crisp and compelling chapters, Dr. Steif steps through real-world problems and links them to critical methods in R. The included assignments are perfect for both self-guided students and educators. There is no better guide to data science in the public realm!"
— Dr. Allison Lassiter, Assistant Professor of City & Regional Planning, Univ. of Pennsylvania
"Ken Steif has written a clever and instructive text to guide students of planning and public policy decision-making. This accessible book brings data science and machine learning into the realm of public policy through a series of common and compelling "use cases," with an emphasis on the critical role of geospatial analysis. The examples provided are practical, address important social issues, and demonstrate impact. Readers will appreciate the thoughtfulness of the prose and a narration sympathetic to the challenges of doing data science in a policy environment."
— Dr. Dennis Culhane, Dana and Andrew Stone Professor of Social Policy, Univ. of Pennsylvania
Written specifically for non-engineering, social science students in public policy, city planning, and geography, Public Policy Analytics treats data science as a framework for problem solving in government where domain expertise is just as valuable as programming chops.
Author, Ken Steif, Ph.D is the Program Director of the Master of Urban Spatial Analytics program and a Professor of Practice in the City Planning Department – both at the University of Pennsylvania. He is also the Founder of Urban Spatial, a consultancy building data science solutions for customers across all sectors but with a particular emphasis on government. You can follow him on Twitter @KenSteif. The book is available open source as well as in print.